In yoga any result is good!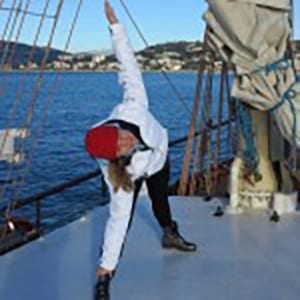 Maria Pawlewicz-Budzinska
A passionate yoga teacher and an architect.  My first yoga experience was when I was pregnant.Then I tried to exercise on my own using available materials. I started practising yoga regularly a bit later. I have been practising yoga regularly since 2010. I am currently graduating from post-graduate studies in Yoga and Relaxation at AWF.
I regularly take part in courses and workshops connected with yoga, learning from great teachers representing different systems. I can't imagine family holidays or days off without yoga. Holidays with yoga give you a full recovery and energy for a long time.
My motto is – 'Yoga doesn't finish when we step off the mat – it is when it really starts'.
I am a member of Stowarzyszenia Jogi Akademickiej (Association of Academic Yoga).
I am not a natural born sportsman. I didn't train when I was a child, and I really regret that. The first form of movement that I liked was dancing. I came across yoga in 2003 when I had serious problems with my spinal column and since then yoga has been rescuing my health. Yoga has also revealed the world of movement to me and now I face new challenges willingly. Being already an adult I have learnt to swim, quite recently I have learnt how to ski and I have completed a self defense course.
My idee fixe has become promoting physical effort starting at an early age in order to avoid problems which I have experienced.
I am a certified English teacher and although I don't work as a teacher, I am interested in psychology, pedagogy and methodology of working with children. I am passionate about learning different forms of movement therapy and their influence on body and mind development (W. Sherborn, P.Dennison, sensory integration, animation scarf, speech therapy, forgotten movement games, drumming and dancing). I choose certain elements and use them in classes with children. It is all about having good fun but their basic goal is getting to know abilities and limitations of your body, learning the body awareness, shaping correct posture and healthy movement habits as well as developing interpersonal relations.